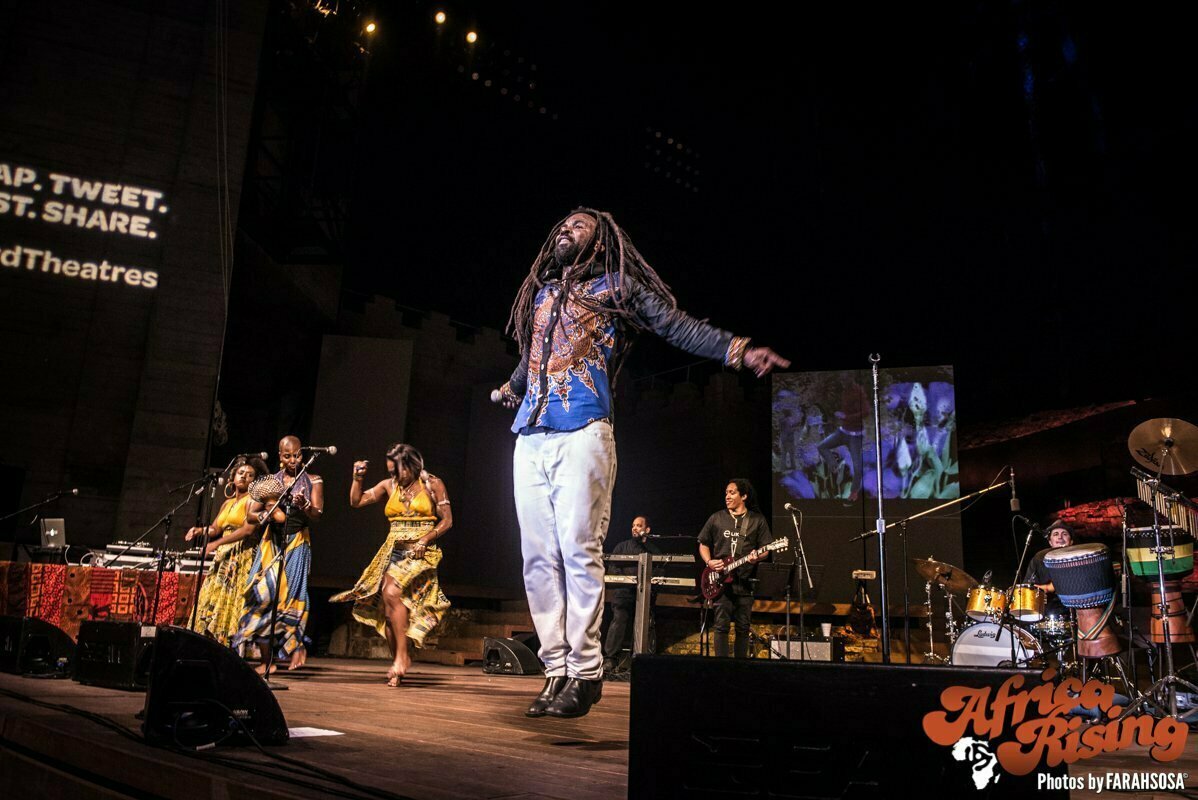 Africa Rising Los Angeles
by
November 29, 2016
On October 15, 2016, the Ford Theatres came alive for AFRICA RISING, presented by Afro Funke' and taste maker radio station KCRW 89.9FM.  It was a spectacular night that highlighted the African contributions to global culture and the multi-cultural renaissance of the African Diaspora within Los Angeles.
Headlined by GRAMMY nominated Ghanian musician ROCKY DAWUNI and his 15 piece Afro Roots band; the night featured show stopping performances from Ethiopian jazz group Wondem lead by Dexter Story, the Afro Pop sounds of Zap Mama's Marie Daulne, "Africa in America" dance ensemble lead by choreographer / singer Kara Mack, master percussionist Kahlil Cummings and "Capo Fresh" capoeira ensemble,  Afro Funke' DJs Glenn Red and Jeremy Sole.  AFRICA RISING was produced by the multi talented Cary Sullivan whose photographs were also showcased throughout the evening as part of the visual projections. The unique and intimate setting of the outdoor Ford Amphitheater was transformed by projections of afro centric imagery by Acidwash, back lit against the rugged beauty of the Santa Monica mountains.
The ecstatic crowd was also treated to appearances by very special guests including R&B soulstress RES, grandson of Bob Marley, Daniel "Bambatta" Marley and master African percussionist Magatte Sow of Angelique Kidjo fame, who all joined Rocky Dawuni on his smokin set which featured an amazing mix of Reggae, Afrobeat and Ghanian Highlife. The night combined music, visual arts, dance and activism into a one of a kind experience. AFRICA RISING was hosted by world renown actor and activist Isaiah Washington who led the crowd on this uplifting journey through the African Diaspora.
Prior to the main event, guests were treated to a special pre-show  VIP party featuring a who's who of Los Angeles as well as a specially curated African Street food menu by Chef Stacey Whitney with DJ Glenn Red and beautiful body art by Tribal Markerz. The party was sponsored by Gaia Herbs, Alaffia, Choctal, Kimmie Candy, Amano Chocolate, Mediterra, Thrive Market. Additional promotional support was given by KCRW 89.9FM, DoLA, Fusicology, EnclaveLA, CultureGapLA, Immigrant Magazine, Universal Rhythm, LA Yoga Magazine  and Playing for Change.
Please check out some amazing photographs of AFRICA RISING in this gallery by Farah Sosa. http://www.farahstop.com/2016/10/ford-theatre-kcrw-899-fm-afro-funke.html More photographs and live video coming soon!
Thanks to all of the performers, supporters and attendees who participated in AFRICA RISING, we truly appreciate you all for helping to bring amazing this show to life.  Look out for this event coming to a city or country near you soon!