KCRW and Afro Funke' Present Africa Rising At Ford Theatres
The grand finale for the Ford Theatres Summer 2016 Season, will be AFRICA RISING, a one-night-only showcase of African contributions to global culture that highlight the multi-cultural renaissance of the African Diaspora within L.A.
featuring:
*ROCKY DAWUNI & very special guests
*MARIE DAULNE of ZAP MAMA
*DEXTER STORY & WONDEM
*DJS JEREMY SOLE & GLENN RED
*HOSTED BY ISAIAH WASHINGTON 
  & MUCH MORE 
Presented by KCRW and Afro Funke', AFRICA RISING will be a gathering of artists and groups involved in the promotion of Africa and sustainable development initiatives on the continent. Grammy-nominated and Ghanaian-born Rocky Dawuni brings his Afro Roots' cross pollination of reggae, Afrobeat, highlife and soul, alongside very special guests for an evening of unique live collaborations. Wondem, an Ethiopian influenced music ensemble led by L.A. native Dexter Story will be joined by Congolese-Belgian songstress Marie Daulne of world-renowned Afro pop group Zap Mama.  The event will be hosted by critically-acclaimed, NAACP Image and SAG award-winning actor, producer, activist and author Isaiah Washington. Also on deck will be DJs Jeremy Sole of KCRW fame and Glenn Red, renowned for his La Junta and Afro Funke' residencies, spinning their inspiring cross-cultural dance floor sets. Kara Mack and her "Africa in America" drummers & dancers from across the Diaspora will also perform alongside visual artists to round out the eclectic night. Plus 20% of ticket proceeds go to the community-based, culturally diverse programs supported by the Ford Theatre Foundation.
AFRICA RISING is an all ages event and food and drink-laden picnics are encouraged.
PROMOTIONAL & MEDIA SPONSORS
ARTIST INFORMATION
ROCKY DAWUNI
Rocky Dawuni – GRAMMY nominated Ghanaian musician and activist straddles the boundaries between Africa, the Caribbean and the U.S. to create his appealing Afro Roots sound that unites generations and cultures. A galvanizing performer, Dawuni has shared the stage with Stevie Wonder, Peter Gabriel, Bono, Jason Mraz, Janelle Monae and John Legend, among many others. Named one of Africa's Top 10 global stars by CNN, he has showcased his talent at prestigious venues such as The Kennedy Center, Lincoln Center and The Hollywood Bowl. Influenced by the soulful beats of Fela Kuti, the positive messages of Bob Marley and the infectious, sing-along anthems of Michael Franti and K'naan – Rocky Dawuni's sixth album, Branches of the Same Tree, was released by Cumbancha in 2015 and was nominated for a GRAMMY for "Best Reggae Album" for the 58th Annual GRAMMY Awards. The first single "African Thriller" and striking accompanying video have been making serious waves around the world!
"Rocky's music is creative inspiration that knows no boundaries."  Ziggy Marley
ZAP MAMA
Zap Mama is the music act of Belgian artist Marie Daulne. Zap Mama sings polyphonic and Afro-Pop music; a harmonic music with a mixture of infused African vocal techniques, Urban, Hip-Hop with emphasis on voice. The worldwide success of Zap Mama, and an ensemble of female polyphonic singers, inspired influences in American Hip Hop, Nu-Soul, Jazz and elements of Pop. The evolving musical compositions created a diverse band of singers and musicians for Zap Mama. "The voice is an instrument itself," says Daulne. "It's the original instrument. The primary instrument. The most soulful instrument, the human voice. Singing songs in French and English with African World Music Roots."
DEXTER STORY & WONDEM
On his debut Soundway Records release, Dexter Story distils his diverse background in soul, funk, jazz and folk idioms into his own unique and worldly voice. Borrowing from Ethiopia, Eritrea, Sudan, Somalia, and Kenya, this collection of East African-influenced music is a testament to Story's decades of dedication to artistic excellence.
KARA MACK
Dancer, choreographer and true heart South Carolina native, Kara Mack, presents "Africa in America: #JUSTUS." Eight amazing dancers & drummers will perform and excerpt from this year's Original Works Showcase, happening October 22nd at Barnsdall Art Gallery. The piece is a collaborate effort by Kara Mack and Burkina Faso's Willy Souly.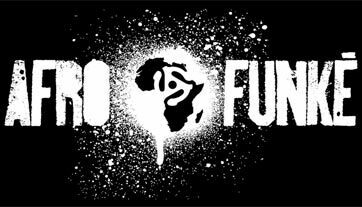 TICKET PRICES
$35 General / $25 Children
$75 VIP includes artist meet & greet reception, African street food hors d'oeuvres by Chef Stacey Whitney, gift bags, premier seating
WHEN
Saturday, October 15, 2016 at 7pm
WHERE
Ford Theatres
2580 Cahuenga Blvd. East
Hollywood, CA  90068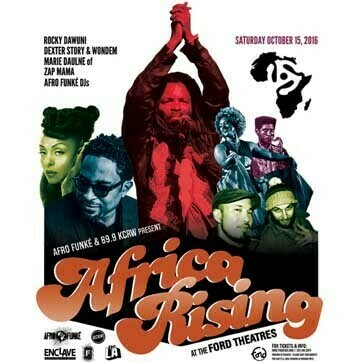 PARKING
Parking costs $5-$10 per vehicle for evening performances. New off-site parking with a FREE shuttle service is located at 1710 N. Cherokee Avenue in Hollywood. Parking is $10 for Ford patrons. Shuttle departures begin two hours before show time and reservations are required. Metro riders: a FREE shuttle picks up from the Universal City/Studio City Metro Station (3913 Lankershim Blvd, Studio City 91604). The shuttle, which cycles every 20 minutes, stops in the "kiss and ride" area.
RELATED INFORMATION
• Dress warmly for outdoor seating.
• Following extensive renovations to this historic facility, the Ford Theatres reopened in July 2016. This event is part of the Ford Theatres 2016 summer season, multidisciplinary arts series presented by the Los Angeles County Arts Commission in cooperation with Los Angeles County arts organizations. A complete season schedule, directions to the amphitheater and parking information can be found at FordTheatres.org.
• The Ford is disabled accessible. Portable wireless listening devices are available upon request.