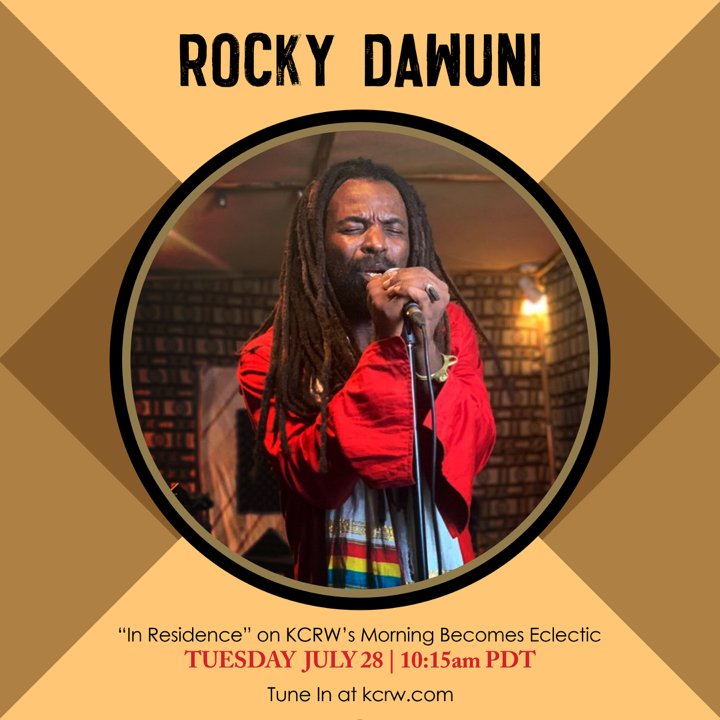 Rocky Dawuni "In Residence" on KCRW's Morning Becomes Eclectic!
by
August 4, 2020
Ghana's Afro Roots champion, Rocky Dawuni, was featured as part of KCRW's new "In Residence" sessions on the flagship Morning Becomes Eclectic show hosted by Anne Litt which was aired on Tuesday, July 28.  "KCRW's In Residence sessions feature storytelling performances and commentary from some of our favorite artists." If you can check out the live recording plus a written q & a at: https://www.kcrw.com/music/shows/music-special/rocky-dawuni-ghana-afro-roots-reggae-live-performance/ or at http://www.kcrw.com 

Rocky recorded the session with his full Ghanaian band live in Accra this month at Kwashibue Recording studio operated by legendary keyboardist Kwame Yeboah (Pat Thomas, Ebo Taylor, Yusuf Islam, Craig David.) "The setting was ideal to get the band into one inspiring space and also to be able to get the best live sound and vibe with Kwame at the helm of affairs. The location also provided the opportunity to capture the ever-present vibrant energy of the city of Accra in our performance. Recent recordings by Highlife music legends like Pat Thomas and Ebo Taylor were recorded here."
Rocky is just coming off an intense media tour for his new video "Champion Arise" from  his most recent release "Beats of Zion" (Six Degrees Records) which has been receiving amazing support including adds on BET Soul, BET Jams, TV Africa and many more platforms. He is currently in Africa working on new music and plans to release a highly anticipated EP later this year. In lieu of the usual summer tour schedule due to the current global situation, Rocky has been focusing on his activism projects including the Rocky Dawuni Foundation's Sankofa Center as well as large scale organic farming and tree planting. In his role as a UN Goodwill Ambassador for the Environment for Africa, Rocky has lent his voice to some high profile online performances / fundraisers including Artists for Amazonia alongside Peter Gabriel, Jeff Bridges, Dave Mathews as well as Pathway to Paris alongside Patti Smith, Talib Kweli, Thom Yorke, Jane Fonda and Jimmy Iovine, to name a few. He hopes to return the live music scene and his fans as soon as possible! 
For FOLLOW Rocky Dawuni: 
http://www.instagram.com/rockydawuni  
http://www.facebook.com/rockydawuni
http://www.twitter.com/rockydawuni
http://www.youtube.com/rockydawunimusic 
Rocky Dawuni "Beats of Zion" Listening & Sales Link for all platforms:
https://rockydawuni.lnk.to/beatsalbum

Rocky Dawuni "Beats of Zion" Press release & links & quotes:
http://pressjunkiepr.com/clients/rocky-dawuni/

 "Beats of Zion" video  
https://youtu.be/gWNpphv-7rk (premiered on PopMatters)

"Wickedest Sound" video featuring Stonebwoy 
https://youtu.be/DiDtpnlHVXk  (premiered on Medium.com )

"Elevation" Video (premiered on Explore.org)
https://youtu.be/z3BZMzhnQ-Q
"Champion Arise" Video (premiered on Music-News.com)