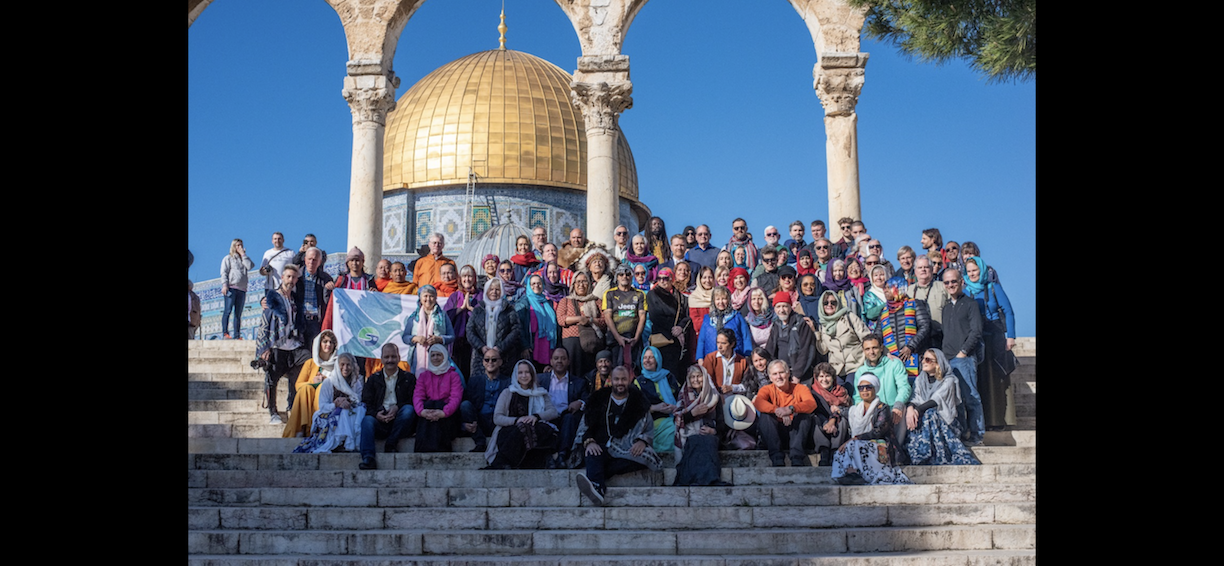 Rocky Dawuni joins Unity Earth for Holy Land, Living Water
by
February 28, 2020
U Day 2020 – Holy Land Living Water is a continuation of the U Day series which began in Thailand in 2012 before journeying to Ethiopia in 2018 and New York City in 2019 to commemorate UN World Interfaith Harmony Week.

Answering the call of the United Nations proclamation to spread the message of interfaith harmony and goodwill, through its UN Interfaith Harmony Week, non-profit organizations UNITY EARTH, United Religions International (URI) and EcoPeace Middle East celebrated World Interfaith Harmony Week of 2020 under the theme of U Day 2020: Holy Land, Living Water.

This week-long "journey of discovery" forms part of UNITY EARTH's Road to 2020, a series of worldwide events designed to capture new opportunities for weaving a spirit of unity and peaceful coexistence across the Earth. Holy Land, Living Water is building upon UNITY EARTH's track record of events commemorating UN World Interfaith Harmony Week, including U Day 2018 in Ethiopia and UNITY EARTH: Lift Off 2019 in New York City.

UNITY EARTH is invited close to 75 international delegates to Holy Land Living Water, including religious, indigenous & spiritual leaders, ecological advocates, diplomats, musicians, artists, social entrepreneurs, leading academics and media. There were buddhist monks, Sufi leaders, Rabbi's, Vatican priests, Shamans, Aboriginal elders and many more as well as International Afro Roots Reggae star and UN Goodwill Ambassador to the Environment for Africa, Rocky Dawuni.
The focus area of the tour was the Jordan River Valley, which is of great importance to the Abrahamic religions. The purpose of this gathering was to draw attention to the significant role cooperation over water can play in enhancing livelihoods and engendering regional political stability.

The event aimed to amplify the impact of interfaith voices nationally and regionally, in order to uphold a common conviction held by the monotheist Abrahamic faiths: a binding obligation on all to practice responsible stewardship, in reverence for our common home. It is the intention of this international gathering to bring greater global public awareness to the work of EcoPeace, in particular, its work for the ecological rehabilitation and sustainable development of the lower Jordan Valley, which is shared by Jordan, Israel and Palestine.
The event uses a faith-based approach showcased in EcoPeace's Regional NGO Master Plan for the Sustainable Development of the Jordan River Valley, as the symbolism of the Jordan River can encourage Jewish, Christian, and Muslim faithful to actively support conservation efforts of this shared natural resource. https://unity.earth/
Check out this great Israeli news story featuring UNITY EARTH and the Holy Land Living Water ceremony at Megiddo (Armageddon).
https://www.facebook.com/106993140795090/videos/495312371160640/UzpfSTE2NzgxMzU2NjkxNjg0MDI6MjQ4ODE3ODU2MTQ5NzQzOA/
====================
Hear from:
• Pat McCabe, Ceremonial Leader, Dine Nation
• Gidon Bromberg, Israeli Director of EcoPeace Middle East
• The Vatican Ecology and Care of Creation Representative
• Prince Ermias Sahle Selassie, President of Crown Council of Ethiopia
====================